Unless someone is pretty wealthy, when they are in the market to get a new car (especially if it's new), there's a pretty good chance that they're going to need to make arrangements to have the vehicle financed. And when that's the case, they are usually going to require a car finance broker. They are the individuals who serve as "the middle man" between the one who wants to obtain a car loan and the institution that will grant it to them.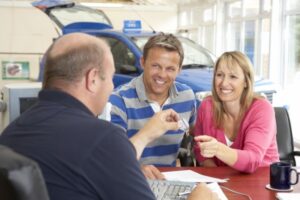 The car loan broker plays a vital role in completing the car sale deal between the two parties, because he knows very well the requirements that must be done to complete the car loan deal, If this sounds like something that you would be interested in doing and you'd like some information on the steps that you need to take in order to become successful in the field, we have enclosed five of them for you below:
To become a car finance broker :
Have the right kind of personality
In order to thrive in this kind of industry, there are certain kinds of personality traits that you are going to need to have. You need to be professional and courteous. You need to be a great communicator in person, over the phone, and by email. You need to be sympathetic to different kinds of financial circumstances. You need to be analytical and become very solutions-oriented. And you also need to spend a significant amount of time studying America's consumer credit system lenders. Remember, when people come to you, they are going to be looking for finance for you to get them approved for a loan and so you have to be willing to do all that you can in order to make that happen.
Get a college degree
Although there are some businesses that may be open to hiring you without a degree, loan auto because this is somewhat of a competitive market, it really is to your advantage that you have a bachelor's in something like business or finance. This will definitely serve as a foundational tool to be successful within the profession.
Work in sales or customer service while you're in school
There aren't too many people who don't find themselves needing to work, at least part-time, while they're in school in order to help make ends meet while they're pursuing their education. loan auto Well, in order to sharpen your people skills, we recommend taking some kind become of job in sales, customer service or cashier —even if it's simply something in retail.
What is the role of an auto loan broker?
The car loan broker provides good offers, displays price lists, and chooses the appropriate products, and takes a commission in return when the transaction is completed. This broker has a recognized rate because it has a trade record and a tax card.
The role of a car buying agent
The car-buying or loans agent service is a mediation to facilitate the purchase process, and it facilitates the lending of car purchase money or finance, the mediation process is very important to become lenders and has an effective role in completing transactions.
Look for a job as a car finance broker
Eventually, you may discover that you want to run your own company. However, in order to do that, you first need to establish some reputable connections within the broker's car dealer and car finance industry. loan auto brokers financing That's why we recommend that you spend at least a couple of years working as a car finance broker for a company that specializes in automobile financing or finance. loan auto broker vehicle If you go to a job search website like Indeed or Simply Hired and you put "car finance broker" in the search field, you'll find several positions available.
Develop a niche
Something that can help you to gain even more customers is to spend some time developing a niche. For instance, you might want to work mostly with individuals who have bad credit. Or you might want to specialize in financing exotic brokers cars or vehicles (like the ones on the top speed website). broker loan auto Or maybe it's first-time buyers that you would prefer to work with. Just remember that if you are able to perfect a certain kind of clientele, which is what can help you to become an expert in the car finance broker field and quite possibly earn you as much as a six-figure salary. Not bad, for helping others get car financing. Not bad at all.