Cashier job description
A cashier job description can be described as an essential position in large or small surfaces, food or not, the cashier is a profession to discover.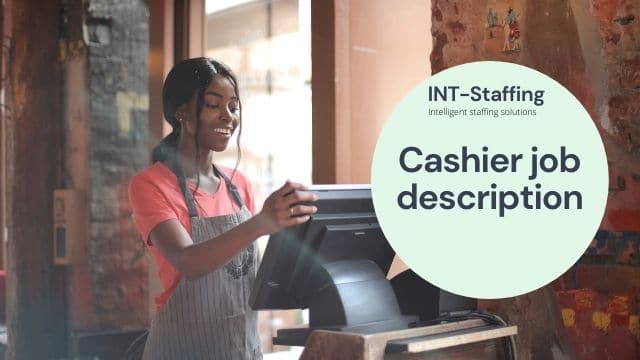 What is the role of a Cashier?
The cashier is responsible for opening and closing the cash register. Becoming a cashier means recording, totaling and cashing in the amount corresponding to the products purchased by the customers. The cashier is also in charge of providing the cash documents for the accounting department. In addition to handling the cash register, the cashier may also be responsible for greeting and informing customers. They may also be involved in the sale of products and the stocking of shelves.
The nature of a cashier's work varies depending on the size and structure of the company in which he or she works. This job can be done in a hypermarket, a department store, a small store, a simple counter, and in many other places.
What are its missions?
Becoming a cashier means being comfortable with both numbers and greeting customers. The cashier sits at the cash register, receives customers, registers products, announces the total price, collects payment, gives change, and does it all with a smile!
The cashier must keep a cash register journal and report the daily revenue (corresponding to the sales made) to the cashier in charge. In a small or medium-sized store, the cashier is versatile and is in charge of customer service, putting away products or articles in the shelves, etc. Finally, she is the first person responsible for detecting counterfeit bills.
The skills and experiences required for a cashier
Speed, enthusiasm and politeness are the qualities needed to become a cashier.
The cashier must also be methodical, serious, and vigilant in order to avoid making mistakes in his or her accounts.
Having a good presentation is also useful in the job, because the cashier is the image of his or her company.
Stamina and concentration are also necessary for this job.
Practical experience as a retail cashier or similar sales position
Basic knowledge of PC operation
Familiar with electronic equipment such as cash registers and POS systems
Good math skills
Strong communication and time management skills
Focused on customer satisfaction
The salary of a cashier
The salary of a cashier varies depending on the location and size of the store. The average salary is estimated to be around $1,997 per month (source: glassdoor.com). In USA, there are approximately 3,600,900 cashiers (90% are women!).
Education and training to access this profession
Education
Regardless that most jobs as a cashier do not have certain educational requirements, still some employers may favor candidates with a high school diploma or equivalent. However, Cashiers should have basic math skills, as they have to be able to make change and count the money in their cash register.
Training
Cashiers get on-the-job training that might last from one week to three weeks. The new cashier gets supervised by an experienced worker, who actually, helps the new employee learn how to use equipment such as scanners or registers.
Responsibilities stated in Cashier Job Description
Manage customer transactions using cash registers
Scan items and ensure prices are correct
Collecting cash and credit card payments
Issue receipts, refunds, exchanges or tickets
Redeeming coupons and vouchers
Cross-selling products and introducing new products
Resolving customer complaints and directing customers by providing relevant information
Greeting customers as they enter or leave the store
Maintain clean and tidy checkout areas
Tracking transactions on balance sheets and reporting discrepancies
Bagging and boxing products and making gift wrapping
Manage product returns and exchanges
Work Environment
In 2019, approximately 3.6 million people worked as cashiers. The following companies were the largest employers of cashiers:
| | |
| --- | --- |
| Food and beverage stores | 26% |
| General merchandise stores | 21% |
| Gasoline stations | 17% |
| Restaurants and other eating places | 10% |
| Pharmacies and drug stores | 5% |
Have a lot of social interaction. They are constantly in contact with customers.
Engage in face-to-face conversations with customers and coworkers on a daily basis.
Use the phone frequently.
Work as a member of a sales team.
Work is mostly done indoors. Some businesses, such as garden centers, may require you to work outside.
Wear a special uniform on occasion.
Work near other people, but keep a few feet of space between yourself and others.
They must be very precise in their work and ensure that all details are completed. Errors may result in financial losses for the company.
Repetitive physical activities, such as scanning merchandise, should be performed.
Can make decisions and assign tasks without consulting with a supervisor.
On a weekly basis, make decisions that affect others.
Work can be part-time or full-time.
Working on weekends, evenings, or holidays is common.
Schedules may be flexible.
What information should I include on my resume for cashier?
Many places that hire cashiers look for similar skill sets in resumes, but what distinguishes you as the best candidate are the specific skills you can offer.
Make a list of your previous experiences.
Even if you've never worked as a cashier before, you undoubtedly have skills from previous experiences to offer. From volunteer work to school projects, there should be always skills you can draw from your past that will be useful. Because cashiering is an entry-level position, employers looking for cashiers simply want to know that you are able to apply what you've learned to the role.
Consider listing some of the following abilities that could help you stand out as a candidate:
Organizing
Accountability to oneself and to others
Punctuality
Communication that is thoughtful
receptive to change and growth
Technical skills
If cashiering isn't your first job, you might have some skill sets to add to your resume from former jobs. It's always a good idea to mention previous experience working a register, directly handling money, or working with others.