The marketing manager job description can vary depending on the industry, location, and size of the organization.  But there are some common requirements needed no matter what industry one decides to work in.  These requirements include excellent communication and writing skills, the ability to work well under pressure, have good problem-solving skills, and be able to work comfortably in a team environment.  A marketing manager should also be able to demonstrate good leadership skills and should understand the importance of building strong relationships with current and potential clients.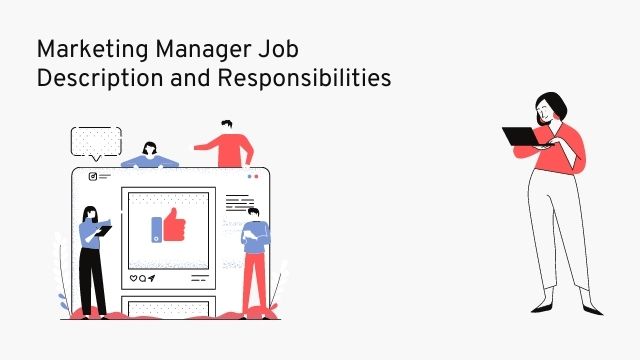 The Marketing Manager Job Description
The marketing manager job description also comprises managing all aspects of a company's advertising, marketing, and promotional campaigns. Of course, the duties of the marketing manager in various industries will be vastly different. For instance, the duties of a marketing manager in the broadcasting field will differ greatly from the marketing manager who works in a company which is selling office supplies.  Even still, there are many aspects of this position that would be common.
Marketing Manager Job Description and Responsibilities
A marketing manager could work in many different kinds of organizations including radio agencies, television companies, advertising agencies, corporate offices, law offices, software development companies, insurance carriers, financial investment groups, and services industries.
Some of the marketing manager job responsibilities will be the following:
> Create, develop and manage the marketing strategy of the company
> Analyze thoroughly the company's product or service within the market
> Carrying out demographic research and analyzing market data
> Increase the market visibility of the company
> Find new ways of securing more potential customers
> Assist in creating market-specific promotional campaigns
> Assist the company's sales department
> Improve client retention rate
> Identify new potential markets
> Incorporate social networking strategies in the company's marketing strategy. (This is fast becoming a very important requirement among the marketing manager job description)
Marketing Manager Job Description: Educational Requirements
A college degree is not really a prerequisite in order for one to be a marketing manager in certain industries. For instance, there are many marketing managers who do not have degrees in broadcasting and media companies. Nonetheless, these companies typically will hire people with a lot of relevant work experience in marketing. Indeed, when it comes to marketing, experience is usually much more important than education or certification.
However, having a bachelor's degree might give you a greater edge over an applicant who does not have a degree. For example, an employee who is promoted from within the company typically has a few years of experience and also a college degree.
If you are applying for a position in a tech firm whose core business is in software development, an advanced degree will be required.  It will vary from company to company, but a bachelor's degree in computer science and an additional degree in business administration would not be uncommon.  This would be true for technology companies, law firms, or financial service providers as well. In conclusion, the marketing manager job description is something that you have to look into before you go and apply for the position.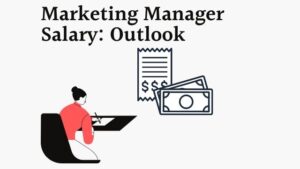 The marketing manager salary in different companies does vary greatly.  The marketing manager's salary generally, will be based on a number of factors such as the location, size of the company, and the specific industry.
In 2019, 10% of all marketing managers earned about $57,750 per year.  There is a much bigger percentage of marketing managers who earned about $122,720 per annum. Those who have a higher marketing manager salary tend to have a lot of working experience and most likely have a long list of market manager job description responsibilities that would fill a few pages!.
Keep in mind some industries traditionally pay a lot for this position. However, in cases where the marketing manager's salary is low, there are typically additional perks or benefits.  For instance, he or she will be provided with a company car and a generous compensation account. Of course, this will heavily depend on the company that you will be working for.
Marketing Manager Salary: Outlook
According to the U.S. Department of Labor, marketing manager positions will continue to grow faster than the average positions. More and more organizations now realize the importance of marketing in order to generate good sales. But the competition for these types of jobs will be extremely high.  Indeed, there are more and more graduates who are still looking for employment in the marketing industry.
The marketing manager's salary these days is highly dependent on your skills and achievements. For instance, if you are able to generate a lot of revenues for the company via your marketing efforts or strategies, you are likely to be given a big amount of bonuses.
Marketing Manager Salary: Certifications & Licensing
There are no certifications or licensing required for one to become a marketing manager.  But as technology and the internet continues to evolve, this forces potential marketing manager to engage in social media.  Hence, taking courses specific to social media marketing or search engine optimization (SEO) would be a great asset for a prospective job applicant in this field. No doubt, it will increase one's marketing manager salary tremendously as well.
Marketing Manager Salary: Rewarding Career
This is a position that can be very rewarding, career-wise, and financially.  You should expect to work for long hours, especially in the beginning and you will have to be able to multitask quite a bit.  At times, you may also find that your job duties tend to be vague as you might be asked to do a lot of other things. For instance, you may be required to perform some duties in sales, participate in product development and handle customer support.  But if you can manage your time and are able to adapt to change quickly, your career will be indeed successful and you will enjoy the benefits tremendously.  It may take a while.  Perhaps the term "You must have patience" should be added to the marketing manager job description as well.
Having a lot of relevant working experience will be the driving force for one's future career advancement.  If you are great in your job, you will be promoted up the corporate ladder quickly and able to get a higher marketing manager salary.