Career In Ethical Hacking And Cyber Security
As the number of online thefts has increased, ethical hacking career in India has emerged as one of the most sought-after professional possibilities. In recent years, there has been an increase in the amount of reported data breaches and cybercrimes.
Is ethical hacking a good career in India?
A career in hacking field is in high and the demand for ethical hackers in many businesses, such as government organizations, information technology sectors, law enforcement agencies, national intelligence agencies, financial institutions, and other similar organizations is increasing. In fact, ethical hackers are required by commercial organizations in order to keep their information secure.
As a result of the increased demand of people pursuing a career in hacking field , the ethical hacking wage in India is fairly attractive at the moment. However, before entering the industry, one should be aware that it requires more than just educational qualifications and technical abilities; it also requires honesty, strong ethics, and, most importantly, a willingness to learn in order to overcome obstacles.
How To Make Career In Ethical Hacking In India
A Bachelor's degree in computer science/information technology is required in order to acquire an ethical hacking career in India with a respectable company. To pursue an ethical hacking career in India, candidates must first complete a Postgraduate Diploma in Software Development with a Specialization in Cyber Security. A PG Certification in Cyber Security from a reputable institute can also assist you in taking advantage of attractive chances with leading firms in the information technology field, as previously stated.
An ethical hacker must be well-versed in a variety of technologies, including Linux servers,  Cisco network switches, Citrix, and Microsoft Exchange, in addition to having strong technical skills. To thrive and keep one step ahead of the competition, it is critical to have a thorough understanding of the latest penetration software and tools.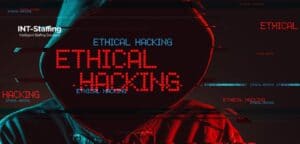 Career In Ethical Hacking And Cyber Security
A candidate who holds the necessary skills and educational requirements can apply for any of the positions listed below:
Ethical hacking career in India #1
Information Security Manager
Average Base Salary: 480 thousand dollars per year
In the context of an organization's computers and networks, data security professionals or analysts are responsible for planning and implementing the protection of the data stored on those computers and networks. They collaborate closely with the organization's personnel in order to educate them on security standards.
Ethical hacking career in India #2
Network Security Engineer (Network Security Engineer)
The average base salary is $517,500 per year.
A network security engineer is responsible for ensuring that the security of an organization's numerous networking systems is kept up to date. He is responsible for maintaining the security system and designing possible plans to restore the system to normal operation in the event of a problem caused by hackers, attacks, natural catastrophes, or other means.
Ethical hacking career in India #3
Security Auditor (also known as a security auditor)
Salary: 691,000 dollars per year on average
As a security auditor, you are responsible for doing security audits on the systems you are responsible for. Once this is completed, he must provide the owner with a full information report on the organization's system. This assists network owner in making the necessary adjustments to their system in order to improve it. A security auditor can choose to operate alone or as a member of a team when performing their duties.
Ethical hacking career in India #4
Information Security Analyst
Average Base Salary: $525,500 per annum
A cybersecurity analyst collaborates with information technology specialists to assess the effectiveness of the organization's security measures and controls. Identifying the system's vulnerability and infrastructures prior to any assault is their responsibility, and they are in charge of developing, implementing, or evaluating the network solutions. In addition, they carry out a variety of security assessment & risk analysis tests to aid in the protection of sensitive information. Companies engage security analysts to help them prevent data breaches and cyber-attacks, which allows them to maintain their financial health and brand image while remaining competitive. Because the professionals are well-versed in security protocols, they are able to defend the organization against future errors and incursions in security.
Ethical hacking career in India #5
Penetrating Radar (PTR)
Average Annual Base Salary: $595,500
A penetration tester's job include testing various IT system protocols in order to uncover potential system weaknesses. They hack into the network system and PCs to conduct a penetration test in order to identify potential vulnerabilities and poor settings. These specialists are also responsible for maintaining a record of their operations and any vulnerabilities that have been detected. Due to the fact that penetration testers use cutting-edge testing technologies to break into systems, they must have strong testing abilities and expertise.
Ethical hacking career in India #6
Information Security Officer
Average Base Salary: 1180 thousand dollars per year
Information security officers are senior managers in organizations who are responsible for ensuring that the organization's enterprise strategy is maintained. They put strategies in place to safeguard the security of information and technological resources. He works with the organization's staff to establish, implement, and maintain policies that will aid in the reduction of information leaks, among other things.
The Role of Ethical Hacking in the Future
The work of an ethical hacker is really difficult. They assist firms in identifying potential security leaks in their systems and in protecting themselves against prospective attackers. They are expected to meticulously document all of the activities they take in order to identify and mitigate system vulnerabilities. They may also have to spend hours drafting reports in clear and straightforward language for network owners, which could take several hours. The practice of ethical hacking, on the other hand, is not limited to penetration testing. Many ethical hackers write articles about scrutinizing computer codes in order to find faults.