Due to the growing trend toward a more casual work culture, it might be difficult to determine what to wear to an interview.
While some businesses continue to require interviewees to dress professionally, others take a more casual approach to recruitment and don't think about what to wear to an interview. This essay will explore interview attire trends, what to wear to an interview and why interview attire is still as critical as ever.
Should you think about "What to wear to an interview?"
The advantages of wearing appropriately
The objective of an interview is to allow a prospective employer to determine your suitability for the position being offered.
While you will be evaluated mostly based on your interview performance, first impressions are critical – and how you portray yourself can have a significant impact.
Putting effort into what to wear to an interview and dressing appropriately for an interview is critical:
Benefits of researching "what to wear to an interview?" #1
It portrays you professionally
Whether you wear traditional business attire or something more casual to the interview, well-presented clothing demonstrates that you are serious about the opportunity, that you understand and adhere to professional standards, and that you take pleasure in your appearance. From an employer's perspective, a candidate who makes little effort with their appearance may very well have the same carefree attitude toward their work.
Benefits of researching "what to wear to an interview?" #2
It exhibits an understanding of the industry
Attending an interview in a well-selected wardrobe might demonstrate to the company that you have a firm grasp on the professional standards applicable to your chosen field. For instance, formal business attire is required for jobs in the banking sector, whereas graphic design jobs often require a more relaxed appearance.
Benefits of researching "what to wear to an interview?" #3
It demonstrates that you've conducted research into the company's culture
A well-thought-out interview suit demonstrates not only your familiarity with the business but also your diligence in researching and identifying with the hiring organization's company culture. Arriving in formal business clothes when the interview panel is dressed casually may create the impression that you have misread the company's attitude and, as a result, are not a good fit.
Benefits of researching "what to wear to an interview?" #4
It can help you gain confidence
Consideration for what to dress to an interview can also provide a personal boost in terms of confidence. An attire that makes you feel both comfortable and professional might help put you in a good mood and soothe your anxiety. Finally, a healthy dose of self-confidence will contribute significantly to a positive initial impression.
Consider how your physical appearance may complement your talents and expertise and suggest that you are a good fit for both the role and the hiring organization when deciding what to wear to an interview.
What To Wear To An Interview In Various Interview Situations
When it comes to interview attire, different businesses have varying requirements.
The following examples illustrate how to dress for business formal, business casual, and smart casual situations, as well as the types of responsibilities associated with each.
Business Formal
If you have been wondering what to wear to a job interview which involves Finance, banking, legal, high-profile sales, and human resources, this is it. These fit under the business formal interview attire category. You'll want a polished ensemble that conveys an air of assertiveness, confidence, and professionalism.
What to wear to a job interview that requires a formal dress code:
Maintain a tailored suit with a buttoned-up jacket, a plain, light-colored shirt, and a tie. Avoid black, as it might give the impression of being stuffy. Greys and dark blues provide a far more inviting aesthetic.
Maintain a plain tie by avoiding busy patterns, loud colors, and novelty ties. Match the color to your suit or go for pastel tones to accent.
Finish with polished leather shoes, a leather belt, and perhaps a briefcase. Complement the ensemble with a fine watch but refrain from further jewelry.
Combine a dark-toned skirt or trouser suit with a light-colored buttoned top or shirt. While it is normally permissible for ladies to go without a jacket, particularly during the warmer months, it is prudent to carry one. Maintain a skirt that is below or just little above the knee and pair it with sheer tights.
If you're comfortable in them, wear no more than a three-inch tapering heel. If not, choose conservative flats; avoid open-toed shoes or slingbacks.
Complement your ensemble with a briefcase or sophisticated work bag, as well as modest jewelry such as a plain bracelet watch. Accessorize with high-quality jewelry to avoid detracting from your professional appearance. If you lack a smart device, simply go without it.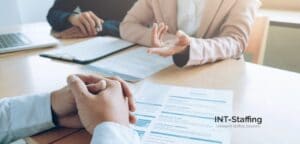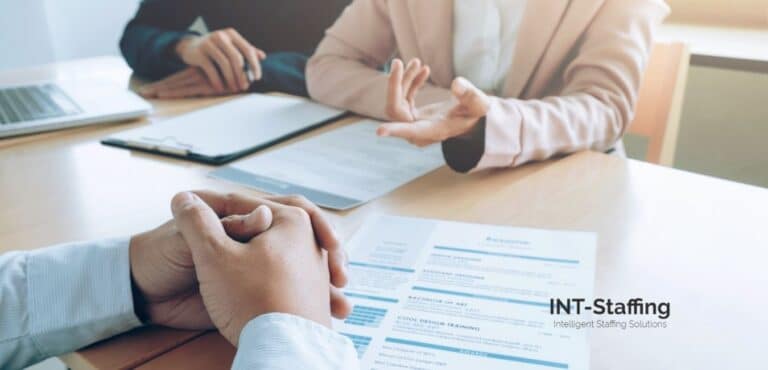 What To Wear To An Interview Which Requires Business Casual
Industry sectors such as technology, education, marketing, and hospitality are more frequently linked with business casual attire.
This is a more difficult style of dress to define than business formal, as different people have varying interpretations of what it implies in practice. A decent rule of thumb is to attempt to balance casual and formal dress.
When it comes to your top half, strike a balance between business and informal. For instance, a button-down shirt worn below an open blazer or sports jacket, or a fitting V-neck sweater worn underneath a collared shirt and tie.
Complete the appearance with a matching belt and sophisticated casual shoes such as leather brogues or Oxfords, and consider substituting an over-the-shoulder leather satchel for the briefcase.
What To Wear To An Interview Which Has A Smart Casual Dress Code
If you have been wondering "What to wear to an interview teenager?" this is it. Smart casual is a dress code that is most frequently linked with the creative industries and start-up business culture, both of which have a younger workforce.
It is fine to showcase a bit of your personality through your attire in unique interview circumstances. Certain positions, such as those in the arts or fashion, require a certain amount of personality, as individual style can assist in emphasize your artistic ability.
Bear in mind, though, that you are attending a professional appointment, and your attire should reflect this.
Button-down shirts, plain or with a simple check, V-neck sweaters, relaxed fit tops, or a plain t-shirt and blazer combination are all appropriate for the smart casual interview. As is customary, keep your palette neutral and well-coordinated. Consistently wear full-length sleeves, as they normally offer males a more sophisticated appearance.
Khaki pants, chinos, and well-fitted dark wash jeans all work nicely for a smart casual interview. Balance your trouser selection with your top selection: for instance, dress up jeans with a blazer or dress down chinos with a V-neck sweater.
What to wear for an interview female?
Female smart casual is a step down from business casual. Substitute dark wash skinny or tailored jeans for the trousers or skirt, and add a simple pattern such as a check to your top half (plain is also OK if that is your preference).
For a classy casual style, flat shoes or boots are suitable.
What Not To Wear To An Interview?
Additionally, there are standards to follow regarding what not to wear to an interview:
Wear nothing that exposes excessive body or could be construed as indecent, such as short skirts or low-cut tops.
Avoid overly casual clothing, such as sportswear, t-shirts, shorts, flip flops, and trainers, even in warm weather.
Avoid anything that the employer may perceive as messy, such as damaged or ripped pants, baggy or large apparel.
Avoid excessive accessorizing and keep jewelry to a minimum. If you have any visible piercings, you should also remove them before the interview.
Avoid bright colors and patterns, as they can be distracting. Maintain a basic aesthetic in dark or neutral hues.
Avoid wearing anything with visible branding. Keep logos and printed graphics to a minimum.
Avoid heavy makeup and excessive perfume or aftershave. Maintain a low profile and allow the interviewer to focus on you as a person.
Choose an attire that conceals your tattoos if you have any. While it is completely appropriate to have them on display in the workplace daily, it is prudent to err on the side of caution during the interview stage.
Finally, avoid items that are very prone to creasing or shifting. You want to arrive looking as presentable as you did when you left the house.