Computerized gaming has become such a prevalent part of our entertainment culture over the past couple of decades. A gaming career in India is lucrative and has a bright future, featuring many different types of jobs for the individual interested in bringing interactive fun to the masses.
You can start a career in gaming after 12th. In fact, you might not realize just how many opportunities exist if you choose a career in game development industry for a gaming career in India. In terms of production, there are PC, console, and handheld/mobile games to consider, and each requires teams of collaborators that include engineers, artists, testers, and producers, just for starters. And aside from production, there are positions in deployment/distribution, sales, marketing, and so on.
Plus, every company needs qualified workers to handle accounting, legal concerns, and more. So even if you're not an artist, a writer, or an engineer that might have hands-on input when it comes to crafting games, you can still enjoy a challenging and exciting gaming career in India.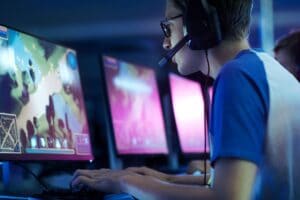 Here are just a few places you might want to look for jobs.
Publishers. Companies that purchase licenses, develop original IP (intellectual property), and pay to bring games to the public are called publishers. Some well-known examples might include EA, Activision/Blizzard, Konami, and Zynga, just to name a few. Of course, there are also hardware developers like Microsoft, Sony, and Nintendo that make games, although more often than not, game developers simply make the software to go with their machinery. In any case, most publishing companies make games in-house, as well as outsourcing to independent developers. The result is that the widest range of job opportunities tends to exist with publishers.
Development studios. If what you're interested in is being part of the team that designs a game from start to finish, then working for a developer is probably the way to go. There is no shortage of studios all across the globe devoted to contracting out for game creation. Some are large and well-known while others are startups using their contract work to pay for the development of original properties. Either way, these smaller venues may offer greater opportunities to those looking for ways to earn their chops in the gaming industry since competition for jobs with major publishers can be intense.
Social media. Social gaming career in India is the future, and even companies that produce hardware have gotten on the bandwagon with online options for playing with friends and downloading content. But companies like Zynga have made social media their primary target with games that take advantage of platforms designed for socializing. Console gaming may be holding strong for the moment, but it likely won't be long before we see these large pieces of machinery being replaced with handheld and mobile options that sync to home entertainment systems (it's already happening with options like Apple's AirPlay). So social media gaming career in India is probably a good choice for anyone seeking longevity in gaming career in India, although mobile is also an excellent option.
Ad agencies. The hottest buzzword in customer relations over the last couple of years has been gamification, a concept that takes the tenets of gaming (competition, achievements, etc.) and uses them as a way to engage customers. So if you have a good handle on how and why games work, you might have a lucrative career creating gamification strategies for companies looking to connect with consumers. Ad agencies aren't just trying to promote the top gift ideas for 13 year old girls or the best new mobile technology – they're looking for ways to turn customers into loyal patrons and brand ambassadors.
Is Gaming career in India worth it?
At home. Believe it or not, a motivated person with a background in computer engineering and some artistic talent can actually produce games from the comfort of home. Many people interested in making games are turning to app developer licenses (Apple's will set you back $99) or even Kickstarter campaigns as a way to make their own games. The best will find funding from investors, and if you're really lucky, your game will go viral, put you on the map, and bring in offers from publishers looking to license your product.