Since the curfew, we feared that he would make his comeback, and that's it, he is there: confinement, season 2. If unfortunately for some, that means lowering the curtain and ceasing all professional activity, for others, office workers, it is the big comeback of telecommuting. While the bars, restaurants, non-essential shops, cinemas, theaters, museums, sports halls, in short all places open to the public are closed, for those who are still lucky enough to have a job, life almost seems to revolve around only one activity: work.
But when life is all about work, what is the psychological impact? Can capitalizing on one's work create unrest or, on the contrary, make it possible to get through this difficult period? How to best live this second "confined teleworking"? Decryption with Johanna Rozenblum, clinical psychologist in Paris.
In the current situation, we no longer have any control, no longer the possibility of deciding on our social relations, and on some of our activities in the private and family sphere. In order not to remain passive, in order not to have this feeling of inaction, we tend to investing more in the professional sphere, to compensate in a way. Basically, it starts with a good intention, being linked to your work allows you to stay productive and to feel useful and satisfied.
The trap, however, is professional over-investment. Or with teleworking in confinement, we observe a shift in schedules : there is a merge between working time and free time. Sometimes even without realizing it, we invest too much, we work a lot and above all we do not necessarily have any reward behind. Because in normal times, when we work a lot, when we work long schedules, we have the pleasure of decompressing in the evening, telling about our day and having a good time with friends. There, this is no longer the case: work is a refuge and no longer a source of satisfaction.
And does that cause frustration?
Frustration, but also anger, a feeling of ineffectiveness and a loss of meaning: " We don't even know why we do so much! "The work which had taken a preponderant place in our life and which had initially enabled us to save our psychic equilibrium, may ultimately turn against us and lead to a burnout.
So we can't imagine building ourselves and flourishing only through work?
To think that work can only be the sole answer to one's well-being is a delusion. Well-being is a balance that is based on professional development but also on an entourage that we love, and which makes us feel good, and a satisfying privacy. If work is a refuge, the reflection of our value, the representative of our social status and that the other spheres of life are neglected, it has serious risks, such as burn-out or the loss of landmarks and meaning, especially if suddenly, we lose our job or if our workload decreases without us being able to do anything about it – as some are doing right now.
Is that what you observed with the first lock-down?
I have noticed this feeling of unease and this excessive attachment to the professional sphere in my patients since the confinement this spring, the effects of which were still present until now and which are likely to worsen with the re-containment.
Especially with this second confinement, a feeling of weariness sets in …
During the first confinement, each effort was fueled by the hope of a result. We did things to protect ourselves, protect others but also to feel satisfaction in the face of restrictive measures. This is what gives meaning to what we do. Today, the future seems more uncertain, the expected results did not allow a return to normal life. The incomprehension, the disappointment arouse anger and an inability to project oneself as we still managed to do during the first confinement … When we no longer project ourselves, we are as if frozen in the present, entangled in ruminations that plunge us into disarray. This second confinement is like embarking on a new marathon when you have not yet recovered from the previous one …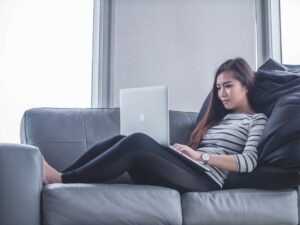 Frustration, loss of meaning, exhaustion… But then how to identify them? Are these consequences manifested by physical or psychological disorders?
The main disorders that I observe in consultation are of the anxiety type. And their symptoms can take the form of a depressive episode, that is to say anhedonia, sadness, a very dark vision of the situation with a loss of vital momentum, or even sleeping troubles. But most of the time, these are somatic manifestations: something manifests itself through the body, and finally it is by verbalizing that the patients themselves realize that they are in psychic suffering, and that must be taken care of. You have to remain attentive to your emotions in order to take good charge of your mental health. Anxiety can be worked on with a psychologist, but in the case of a diagnosed depressive episode, it will sometimes be necessary to take supportive drug treatment.
In your patients, does it change their relationship to work?
The loss of meaning and pleasure are heavy consequences in the relationship at work. Many are aware that their professional over-investment is motivated more by a survival instinct: some do to save their place because, unfortunately, there are a lot of people who are losing their jobs with the crisis, when others do it to keep a pace of work but in all cases, it's not for the love of work in himself. Work therefore counteracts fear, uncertainty, anger, all these unpleasant emotions which put our psychological well-being in danger. It's a lifeline for weathering the storm, but ultimately it's not sustainable. As soon as possible, another balance will have to be found.
How to limit the negative effects on morale in confined telework?
The number one priority is to avoid isolation and withdrawal into oneself. It is absolutely necessary to remain in the exchange, in the link, even virtual with colleagues and relatives. It is fundamental to verbalize what we feel and what we experience. But for that, you also have to stay tuned to your emotions: you can definitely feel pain or anger, it's acceptable and it's normal. There are days that will be less pleasant than others, you have to learn to listen to yourself and take care of yourself.
Do you have any practical advice on how to better understand this daily professional life at home?
Rhythm of the day is very important, so I advise trying to keep the same as the office usually. It is, for example, waking up at a fixed time in the morning, taking the time to prepare … And above all, impose hours to work and hours when we stop: we turn off the computer and move on. For precisely not having that work in his life. And then, every time we have a dark thought, we must oppose it for a moment that will bring us comfort, this is what we call a compensatory experience. Do not hesitate to pick up his telephone, call your colleague or make a coffee in video because altruism is a formidable natural antidepressant. Finally, it is absolutely necessary to use the authorized exit time every day to ventilate, to go out.
And to prevent his motivation from waning?
Maintain a balance between the different spheres of his life (pro, private, social) is the key to well-being. Above all, we must not let work take precedence over our entire life: the needs to be connected, to laugh, to escape, to take time for oneself are just as important, especially at this time. Let us remember what usually brings comfort.
Can we hope that this second confinement will nevertheless be easier to live with for teleworkers who have already experienced the first?
It completely depends on the experience during the first confinement! People who had a bad experience the first time will have a lot of apprehension and risk perceiving this new confinement as a punishment. On the other hand, others will have succeeded in setting up adaptation strategies that will allow them to overcome the difficulties encountered the first time, and for these people, this second confinement can be approached with more serenity. It's really interesting to take advantage of this first experience : keep the practices that had worked well for us and also retain what had proved deleterious for our mental balance, and then make readjustments.
What about the after? Will this profoundly change our relationship at work, our way of life?
It is difficult to anticipate what this crisis and the two lock-downs will change in each of us. However, it is likely that the priority will be to find ourselves, see again and again feel our loved ones by our side. A study longitudinal dating from 1938 was conducted at Harvard to try to understand what made us happy. For 75 years, more than 700 participants, including JF Kennedy (then future 35th President of the United States, editor's note) were followed by doctors, psychologists and researchers. In 2016, the verdict falls: it is not social success that makes people happy, but the quality of their social ties. Perhaps this event will make us review our priorities, and it would be a great way to give meaning to everything that is happening today!