A heavy equipment operator is responsible for operating and maintaining specialized machines used in construction, maintenance, and operations.
Stable hands and feet are critical when manipulating the levers and controls of large machines in close proximity to people, sensitive items, and confined spaces are some of the things you need to be comfortable with. Also, mechanical abilities are included in the job description for heavy equipment operators, as maintenance-conscious employees are frequently more aware of gauge reading and warning indicators.
Construction equipment operators, frequently referred to as operational engineers, are responsible for loading and excavating machines. Excavation and raising of sand, gravel, and soil are accomplished with these machines. Paving and surface equipment operators spread concrete and asphalt during the roadway construction process. Operators of pile-driver machinery direct the hammering into the ground of massive beams of wood, concrete, and steel known as piles.
Heavy Equipment Operator Job Responsibilities
To attract qualified candidates who will excel in their roles and contribute to your business's productivity, your heavy equipment operator job description should include a detailed breakdown of the role's major responsibilities. By expressing performance expectations and intended objectives succinctly, candidates can gain a better understanding of what a typical day in the position might entail and determine if they are a good fit.
A few simple but critical strategies can help add clarity and value to the lengthy work responsibilities section of your heavy equipment operator job description, thereby increasing its effectiveness. Due to the fact that excessive wordiness can draw applicants' attention away from the most critical details, this section should be structured using bullets. Each line should begin with an active verb in the present tense. While this section should be exhaustive and precise, it is not required to include an exhaustive list. Limit the heavy equipment operator's work obligations to a maximum of eight points.
To get you started, the following is a list of possible responsibilities:
Responsibilities of heavy equipment operator jobs
Inspect, configure, and operate earth-grading and earth-excavation equipment, as well as equipment used to transfer heavy items.
Adhere to all applicable safety procedures and standards.
Utilize verbal and hand signals from fellow crew members to position loads and coordinate movement with other onsite activities.
On a routine basis, maintain backhoes, excavators, and dozers.
Keep detailed records of the machine and material usage.
Heavy Equipment Operator Job Descriptions
While the abilities and credentials section of heavy equipment operator jobs is brief, it is just as critical as the other sections. While the job duties section discusses the tasks for which an employee may be held accountable, the job specifications section discusses the education, abilities, and other characteristics required to perform those activities properly.
A comprehensive list of heavy equipment operator job requirements can aid in streamlining the hiring process by encouraging qualified candidates to apply and discouraging those who do not meet the minimum requirements. To create a useful list, it's critical to differentiate between necessary characteristics, such as a driver's license and the ability to comprehend site layouts, and desirable characteristics, such as experience. Consider dividing this section into two distinct categories to ensure that the information is presented clearly and to avoid confusion.
You may find the following sample job specifications for heavy equipment operators useful:
Valid state-issued driver's license.
Minimum three years of experience operating heavy machinery in a related industry, such as loaders, dozers, backhoes, and excavators.
Outstanding understanding of safety procedures and policies.
Self-motivated and capable of successfully working independently.
A thorough understanding of how to read plans and site layouts.
Heavy equipment operator salary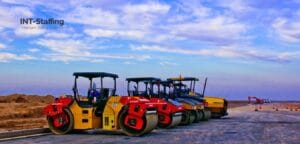 Operators of pile drivers earn the most, earning a median annual salary of $58,680 in 2018. This factor is considered when calculating the combined salaries of all heavy equipment operators.
Approximate heavy equipment operator salary
Median Annual Salary: $46,990 ($22.59/hour).
The top 10% earn an annual salary of more than $83,190 ($39.99/hour).
The bottom 10% earn less than $30,660 per year ($14.74/hour).
How to become a heavy equipment operator?
Heavy equipment operator school and training
To prepare for this position, you should first learn to operate light equipment under the supervision of an experienced operator. There are few, if any, educational requirements.
Apprenticeships: This option combines technical education with on-the-job or field training over a period of three to four years. You'll learn how to operate and maintain equipment during on-the-job training. Instructors will teach you about safety precautions and first aid, as well as operational procedures, in the classroom.
Licensure: Your municipality may require you to obtain a license before operating or transporting equipment to job sites. In some states, hauling machinery necessitates the acquisition of a commercial driver's license (CDL). In certain towns and jurisdictions, operators of pile drivers are required to hold a crane license.
Competencies and Skills of Heavy Equipment Operators
Along with formal education and a license, you may need some additional abilities to succeed in this industry. Some of these are:
Coordination of hand and foot movements: You must be able to coordinate your hand and foot movements in order to maneuver extremely large machinery through confined spaces.
You will be required to read gauges, dials, and other indicators and make necessary adjustments.
Interpersonal skills and teamwork: You must be able to coordinate your activities with those of other workers on busy construction sites.
Troubleshooting: Anyone who operates heavy equipment should be able to recognize and resolve operational problems.
Your job will require you to weigh the advantages and disadvantages of various potential solutions to problems in order to determine which ones are most likely to be successful and cost-effective.
Employment Prospects
Heavy equipment operators have an excellent job outlook. Between 2016 and 2026, the US Bureau of Labor Statistics projects that employment in this field will grow at a rate roughly 12% faster than the national average.
Operators of pile drivers, on the other hand, should fare significantly better. They should see approximately 15% job growth over the next decade.
Workplace Environment
Heavy equipment operators are employed by businesses engaged in heavy and civil engineering construction, specialty trade contractors, and local governments.
This field requires professionals to work in all types of weather. They must be able and willing to work in adverse conditions, which may include extreme weather, enclosed spaces, and heights of up to 80 feet.
Slips and falls pose a significant risk of injury to operators of heavy machinery.
Work Schedule
Often, these are full-time positions. Because construction projects take place at all hours of the day and night, these workers' schedules may include late nights and midnight shifts. With a schedule that may include weekend work, you should be adaptable.
FAQs
How much do heavy equipment operators make?
Operators of pile drivers earn the most, earning a median annual salary of $58,680 in 2018. This factor is considered when calculating the combined salaries of all heavy equipment operators.