Do you know what a network interview is?
Surely you hear a lot of people advising you to develop your network to find a job.
If you don't know anyone, your first instinct will probably be to connect to Linkedin to ask to connect with people. However, limiting your actions by clicking a button will never allow you to develop a quality network!
Developing your network: it's meeting a person. though, it does not matter whether you exchange face to face, by phone, or by video. The most important thing is to schedule this network maintenance.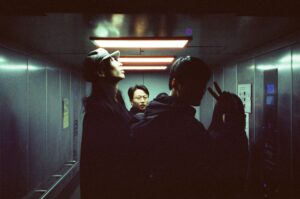 What is an elevator pitch?
Imagine that someone comes out of the elevator and you have 30 seconds in front of you to talk to him/her: say who you are and how you are going to be able to help them eventually.
So, to introduce yourself and make an impression, you will use your elevator pitch.
Whether you are a job seeker or even an entrepreneur, having an elevator pitch is essential to be able to grow in your career.
In other words, your elevator pitch should allow your interlocutor to know very quickly who you are, what your skills are, and especially your greatest successes.
Having a ready-to-use pitch is therefore the best way to make an impression and gain self-confidence.
How long does an elevator pitch take?
To put it simply, an elevator pitch lasts 30 seconds. This is the maximum attention a stranger can give you. So in 30 seconds, you are going to have to be efficient and relevant.
How much to organize your elevator pitch?
I will go through step by step the elements that you should mention in your elevator pitch.
Step 1 – Ask a question
A good elevator pitch is not a cold speech but the start of a conversation. So what could be more engaging than starting your pitch with a question?
For that, let's put ourselves in a situation. I will take my case as an example. Imagine that I participate in a networking event to land contracts with business schools as a job coach.
I arrive at a party and I meet an establishment manager.
Here is how I can challenge him:
'Hey, have you seen this year how difficult it is for young graduates to get their first CDI or CDD? "
You see, I appeal to the director with a problem that concerns him. I'm not focusing on myself but on his current concerns. Focusing on your interlocutor is the key to succeeding in your networking efforts.
Step 2 – Introduce yourself
Then I will say who I am and who I help.
For that, I could say:
"I am Karen, employment coach and I support professionals in all sectors of activity from young graduates to senior executives to land the job of their dreams".
Step 3 – Show motivation
Next, which is very important; it's about explaining what drives you.
This is how I can go on:
"This is the job I chose because I really feel very useful and I have enormous satisfaction when people find a job."
Step 4 – Show what makes you unique
Now what matters is showing how you can stand out from showing what makes you unique.
So what I can say is:
"Today, what makes strength: it is my ability to have any profile to have even work in many sectors of activity."
What makes you unique are your greatest accomplishments or the biggest problems you've been able to solve.
Step 5 – Start the conversation
You have understood it: what is very important is to end with what is called in English a call to action, something that will start the conversation. The best way to do this is to give the floor back to your interlocutor by asking him a question.
The question I can ask my school director is:
"Today, don't you need someone to help your students get their first job more easily?"
This is an example of an elevator pitch. Do you understand the logic?
To summarize here is the method to apply:
ask a question
say who I am and who I work for
show my motivation
explain what makes me unique
start a conversation by asking a question
How to captivate your interlocutor with your elevator pitch?
To capture the attention of your interlocutor, it is important to put yourself in their shoes before building your presentation.
For this, you must avoid using jargon, words that no one will understand. Your argument must be understandable by everyone: a Human Resources person, a manager, a person who does not work at all in your field …
In addition, a good pitch must be dynamic. Avoid any element of pathos. Focus on the facts. You only have 30 seconds in front of you. To be effective, you must not get lost in the details. Always wait for questions to be asked before flooding the other party with information about you.
Practice
Once you've built your elevator pitch, you'll need to make the text your own. To do this, practice saying it until you are very comfortable. Often times, I recommend that you do it with loved ones to get their objective feedback. Ask them not to be kind to you.
Master your body language
The difference between a good elevator pitch and a great elevator pitch is your ability to bring your story to life.
There are two things you need to be especially vigilant about.
Manage your flow
The first thing you need to think about is not to speak too fast. You are surely taken by stress and you want to "spit out" your pitch as quickly as possible to get rid of it. Do not make this mistake because all your efforts will be wasted.
Take the time to articulate, to take breaks so that the person can understand you.
Bring your body to life
The second thing to think about is not to be rigid when doing your elevator pitch. The stressed candidates are extremely rigid: the body is straight, the arms at the sides of the body, the head does not move… One has the impression of speaking to a robot and this prevents your interlocutor from concentrating on your words.
So what you need to do and who can be a game-changer:
open your chest and do not cross your arms so as not to close in on yourself
lower your shoulders to show confidence
nod your head or speak with your hands
Doing so will make you feel more natural and have a more conversational tone. You are not there to annoy the person.
Example of Elevator Pitch to complete in 30 seconds
Finally, here is an example of an elevator pitch. You will just have to fill in the blanks with your personal information.
"Did you see that… [Make a statement]? "
"I am [say who you are ] who helps [tell who you are helping].
What motivates me is [give your reason].
I have in particular [mention your greatest achievement or the biggest problem solved].
Would you need help with [mention the challenge]?
I hope you will now be able to make a good elevator pitch when you meet someone exiting the elevator or elsewhere.