Pursuing a career in law in India is not only an excellent career choice, but it can also be a life-changing experience for many people. Law as a profession produces exceptional leaders and passionate human beings who contribute to the betterment of the world. Personalities such as Mahatma Gandhi, Barack Obama, Dr. Rajendra Prasad, and many others have backed up this assertion. Do you want to learn everything there is to know about career in law after 12th? Are you unsure of which is the best career in law? As a result, you have arrived to the correct location; continue reading until the conclusion to receive comprehensive answers to all of your concerns about the best career in law.
Career in law in India
A career in law after 12th is a fulfilling experience, both in terms of financial rewards and in terms of the sense of fulfillment that comes from being able to assist individuals of the community by raising their awareness and comprehension of the fundamental human rights that the law provides. The initial step in pursuing a legal career in India is to enroll in an undergraduate program such as LLB/BBA LLB after completing 12th grade. After completing the course, you will be able to either start your own career in law in India or join a legal firm. Another alternative career in law in India is to enroll in a postgraduate program, such as an LLM, in order to expand your knowledge and develop the necessary abilities for your chosen profession.
It is crucial to highlight that a a career in law in India does not necessarily entail representing clients in courts or tribunals but rather encompasses a broader range of activities. Law graduates can work as judges, litigators, consultants, analysts, and a variety of other positions in addition to providing legal advice to government agencies, businesses, and individuals on legal conflicts and concerns. When one chooses to specialize in a certain field, one's professional profile is further boosted.
Career in law in India #1
Lawyer for Corporations
Law firms are simply businesses founded by individuals or groups of attorneys with the goal of making a profit through the practice of law. Such law firms are more likely to broaden their geographic reach in order to grab more clients in more locations. Along with small businesses, there are large corporations that deal with acquisitions, corporate sectors, competition, and a variety of other issues.
Career in law in India #2
Litigators
You will be required to appear in court on a daily basis if you choose this profession. Your earnings will begin on the very first day of your participation. Your responsibilities include assisting, drafting, conversing, typing, and a variety of other tasks.
A career in law in India #3
Sector of Banking and Insurance
Banks and insurance companies are more likely than not to have their own in-house legal departments. As a result, the very first title you may be given in this field is "Administrative Officer(Law)" or "Specialist Officer(Law)."
Insurance firms are responsible for conducting their own examinations. Even first-year students are welcome to take part in such exams. Finally, individuals are selected and assigned to their respective jobs in a bank based on their performance in the interview and on their merits. On the other hand, there are other banks that only hire graduates after conducting an interview with them.
Career in law in India #4
Public Prosecutor
This is a lawyer who has been appointed by the government to represent the state in criminal proceedings. State public service commissions conduct examinations for the purpose of appointing these types of prosecutors. This position will provide you with the possibility to receive a fixed monthly pay.
Career in law in India #5
Services for the Judiciary
You've probably heard the phrase "Order-Order" in a movie or two. The procedure of becoming a judge may differ from one country to the next depending on the jurisdiction. In any case, examinations are conducted by the state's public service commissions in the majority of locations. In certain regions, even recent graduates are permitted to sit for such tests, but in others, prior experience is required.
Career in law in India #6
Agencies in Charge of Investigation
No matter whether it is the CBI, FBI, ED, or state investigation agency, lawyers are always in high demand to work for such reputable investigative organizations. In most cases, with the exception of inter-service transfers, candidates are recruited through competitive examinations or tough selection procedures.
Career in law in India #7
Criminologist
Students interested in pursuing a career in law may find that pursuing Criminology classes or focusing in this area of law is an appropriate path to take. Individuals will study about diverse aspects of psychology, sociology, political science, and other related fields because it is an interdisciplinary field.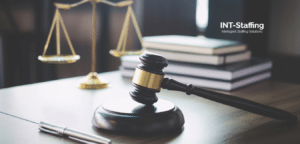 Career in law in India #8
Lawyer
They frequently work alongside attorneys to ensure that large-scale litigation is properly regulated. And, sure, they create and construct databases to regulate, and conclude massive amounts of data generated on a daily basis, which they then use to make decisions. This type of expert is in high demand as a result of the increasing technology integration into legal services.
Career in law in India #9
Solicitor
Unlike other professionals, a solicitor produces a list of documents and consults with his or her clients. In order to represent their client in court, such a lawyer must appear in person.
Career in law in India #10
Legal Academia
In an educational university, you can work as just a tenured professor on a contract basis if you have the necessary qualifications. You must first complete your LLM in order to be considered for admission to legal academia. The procedure, on the other hand, may differ from one state to another.
Career in law in India #11
Paralegal
A paralegal is a legal assistant who works in either public or private law companies. A paralegal is a synonym for a legal assistant. The job of a paralegal is to assist attorneys by performing a variety of legal activities. Instead of being limited to little tasks, they are responsible for big tasks including planning hearings, meetings, and trial matters as well as communicating with clients and other parties.
Is law a good career in India?
If you, like myself, enjoy engaging with challenges, problems, and disagreements, this would be the best route for you to take because of the following reasons:
Prestige: Since ancient times, such a profession has always been associated with prestige, owing to the fact that society places a premium on striking appearance, a large remuneration, and legal authority.
Diversity is a given in the process of establishing a legal system, and the occurrence of differences is unavoidable. As a result, there are numerous legal employment opportunities available to you in the future. Consultants, secretaries, paralegals, mediators, judges, and attorneys are among those who work in the field. Because of the rapid changes, more and more job pathways are emerging in the field of law.
It's time to say goodbye to boredom. You'll become the next Sherlock Holmes. So many things will come at you, including papers, sketches, and slivers of evidence. In addition, if you start looking for patterns in the guilty ones, boredom will never be a problem for you again!
FAQs
Is law a good career in Australia?
Lawyers are currently among the highest-paid professionals in Australia, according to PayScale. In addition, there is a demand not just for locally bred lawyers, but also for those who come from other countries to practice.
Is law a good career in Canada?
Lawyers are in high demand throughout Canada, and you may be able to obtain a Canadian Permanent Residency Visa regardless of whether or not you have a work offer at the time. If you are a lawyer and have been practicing law for a period of time, you may be eligible to move to Canada.