Digital assistants, bots, robots, or self-driving cars come to mind when we hear the term "Artificial Intelligence." These are some real-life artificial intelligence instances that are both powerful and fascinating and have the scope of employing millions in the form of a career in Artificial Intelligence or ai careers.
Despite the numerous AI advancements, companies have yet to implement AI efforts. Artificial intelligence (AI) is here to change the way people live and work. Human mistake can be reduced by using AI technology. Thus in the coming future there will be millions of vacancies for a career in Artificial Intelligence sector or ai careers.
The following are the tasks of individuals who start a career in Artificial Intelligence:
Investigate the best machine learning algorithms.
Data science prototypes are being transformed.
create machine learning applications based on the requirements.
Work closely with the robotics team and electrical engineers.
Carry out machine learning experiments.
When necessary, train systems.
Datasets & data representation strategies
Depending on the level of knowledge, the responsibilities will differ. However, ai careers or Artificial intelligence job opportunities will have overall functions and responsibilities as follows:
Career in Artificial Intelligence: Everything you need
As a Newcomer:
A bachelor's degree in one of the following subjects is required:
The field of computer science
Information and Communication Technology
Statistics and Mathematics
Finance
Economics
Critical thinking skills, problem-solving skills, creativity, excellent communication, and industry knowledge are all required in addition to a bachelor's degree is required if you want career in Artificial Intelligence. These skills can be acquired via online re-skilling or a Master's degree program. However, because career in Artificial Intelligence is today's "buzzword," it's a good idea to enroll in online and training programs from authorized schools.
A bachelor's degree, in theory, should only assist you get an entry-level Artificial Intelligence job.
Obtaining a Master's degree –
You'll need a Master's degree or even a PhD if you want to work in leadership roles that need supervision in career in Artificial Intelligence.
You can weave your AI career with a Master's degree in advanced science learning with a speciality in artificial intelligence or a Master's degree in artificial intelligence. The Master's programme mostly focuses on professional development. The solid curriculum revolves around real-world issues and application fields.
A working individual –
It is critical to fine-tune the technical skills if you work in the IT industry. To work as an AI engineer, you must learn the most up-to-date skills and technologies. AI engineers aren't simply talented experts; they're also well-versed in both theory and practice. Taking a pragmatic approach to these technologies will give you a leg up on your competitors. Additional AI certification programmes will earn you brownie points when you're looking for AI jobs.
The skills necessary for a career in Artificial Intelligence
A step-by-step guide to become an AI engineer. Because AI is such a new technology, the majority of professionals are choosing for AI certifications from the best online schools. Professionals interested in pursuing a career in AI should examine the business and technology skills required.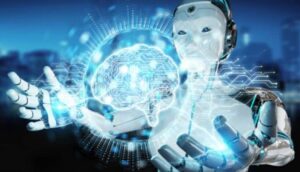 Technical Expertise
R, Php, Java, and C++ are examples of programming languages.
As an AI engineer, having an aptitude for coding is a vital skill to have. Software programs like R, Linux, Java, or C++ are vital to know. This will assist you in comprehending concepts like as data structures or classes. Knowing more than one computer language will always be advantageous, as employers are increasingly looking for people with a diverse skill set.
Calculus, Linear Algebra, and Statistics
It is necessary to understand statistics in order to comprehend how computational intelligence work. The terms Gaussian distributions, variance, and mean will be used frequently. It is recommended that you have a firm understanding of statistics and models such as Naive Bayes,and Gaussian Mixture models.
Algorithms, matrices, mathematical programming, and a comprehension of derivatives and integrals are also required.
Processing of Natural Language
NLP is a branch of artificial intelligence that allows computers to comprehend and analyse human languages. In other words, natural language processing brings the computer closer to human-level language comprehension.
This includes two important fields of study, linguistics & computer science, as well as the possibility of working with sound, video, or text. This is why it's critical to have a firm grasp of libraries like NLTK and Gensim, as well as approaches like sentimental analysis, summarising, and word2vec.
Architectures of Neural Networks
Machine learning comes into play when jobs become too complex and difficult for humans to code. Recent developments in machine learning, on the other hand, have enabled computers to perform jobs that are too difficult for the human brain to grasp.
Voice recognition, classification techniques, and translation have all been demonstrated to be difficult tasks for neural networks to solve.
Skills needed for a career in Artificial Intelligence that aren't technical
Without the non-technical abilities, how can an AI engineer communicate crucial events to investors and those who lack technical knowledge? It is also necessary to have knowledge in non-technical fields in order to be a good AI engineer.
Expertise in the field
In-depth knowledge of the industry situation would benefit AI specialists working in this field because it will assist them understand the real-world scenario as well as the industry's pain points.
Communication Capabilities
If you don't speak in simple English, explaining subjects like machine learning and artificial intelligence can be difficult. It will be much easier to explain such topics to people who have limited technical understanding if you have good communication abilities.
Thinking Critically
Statistics and data should pique the interest of AI developers; they must be able to apply what they've learned and draw intelligent conclusions.
With the advent of AI, every industry is now striving to integrate artificial intelligence, resulting in a twofold increase in the demand for expertise.
A word of advice for a career in Artificial Intelligence
More people are eager to improve themselves for new-age IT professions as we live in a technology-driven world. There are a plethora of online programmes and training institutes that offer AI certifications, AI engineer certification, or machine learning certification, among other things.
Industry professionals have carefully constructed the majority of AI certification programmes. The programme provides a lens through which the applicant's technical proficiency can be validated. It serves as a link between anyone who does not have all of the necessary AI skills and the current industry demands.
Professional certifications are among the most common ways for an employer to gain confidence in and trust the person they're considering hiring.
AI is advancing at a breakneck pace; all that remains is for the rules to catch up with technology.
Educate yourself today to plan out tomorrow's occupations!