There are plenty of reasons why people find themselves taking a career break. Whether it had been planned for a while in advance or was just a result of life's circumstances, everyone's reasons and stories are sure to be different.
No matter what transpired to get you to that point, or your reasons for wanting to get back, returning to work can be an overwhelming task. Whether you had taken years off to take care of an elderly parent, spent several months raising a family, experienced long-term unemployment, or something else, you are probably both excited and nervous about heading back to the office.
If you are coming back from a career break, here are three big challenges you may face and what you can do about these.
1. You lack confidence.
One of the most common problems for people who are looking to get back to work is a lack of confidence that has built up over the time that the break was happening. Even for someone who was at the top of their field, taking a time-out can bring about a large amount of nervousness regarding how good of a job they can do upon return.
For this reason, the best thing you can do is ensure that you are harmonizing your skills, abilities, and experiences with the ones demanded in the job description. What you need to understand is that these abilities don't merely need to have been generated solely in a business environment.
In fact, during your work break, you probably had a lot of additional experience with communication, time management, negotiation and organization.
All of these are necessary characteristics in any office, and you will have obtained them in large amounts after looking after an aging parent, bringing up children, or running your own business.
2. You aren't up-to-date with your industry.
No matter how long you have been out of your industry, there is a good chance that you will need to re-familiarize yourself with what is going on. Especially if you previously worked in a fast-paced niche, you are going to want to spend some time researching the industry, the companies, and the positions that are available.
One of the best ways to get back into the industry is to start networking as soon as possible. (Ideally, you would have kept up with some of your connections while taking a career break.) Set up a coffee meeting with your former co-workers or bosses to notify them that you are planning on returning to work, and to ask for their advice. They also may be able to inform you of potential job leads.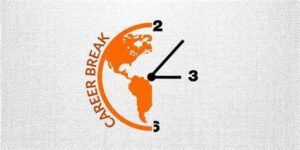 Also, don't overlook the power of engaging in a LinkedIn Group that is relevant to your enterprise.
If this type of networking isn't available to you, then certainly, look to attend conferences and informational interviews to assist you in becoming up-to-date on your industry. By being able to show potential employees that you are committed to learning more about the industry, you are proving that you are willing to learn and to get up to speed.
3. You don't know what to say about your career break.
Depending on the length of your break, it is realistic to presume that you are going to have to explain it when you write your cover letter, as well as during any job interviews.
This shouldn't scare you from applying for jobs; instead, you just need to know how to answer these questions. The main rule is to keep the explanation short and simple. No matter what the reason was, practice boiling it down to a brief and easy-to-digest sentence.
Then, turn the conversation back to your prior work and your relevant experience.
Keep in mind that the longer you have been out of the workforce, the more challenges you are going to feel like you have to face. However, only you can make success happen, so while it may take some inner motivation to convince you to begin the next stage of your career and life, it still won't take too long to feel as though you are back in the groove of things.